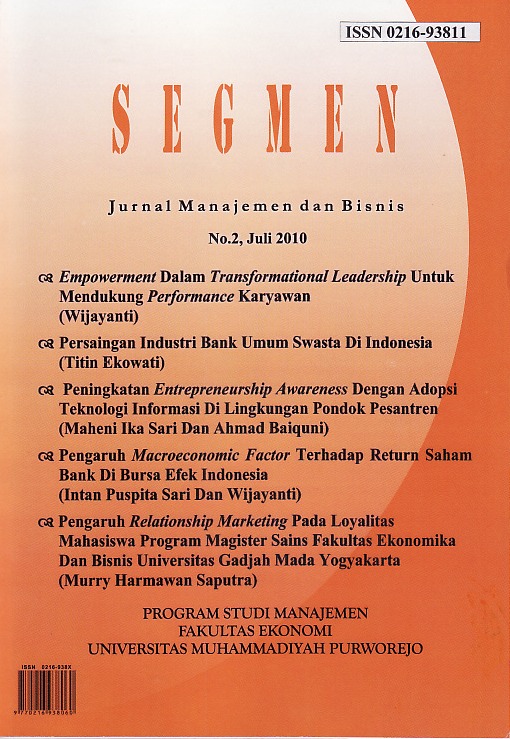 PENINGKATAN ENTREPRENEURSHIP AWARENESS DENGAN ADOPSI TEKNOLOGI INFORMASI DI LINGKUNGAN PONDOK PESANTREN
Abstract
Nowadays, information technology plays important role in education and business via all information technology devices. The aim of this study is to capture the level of information technology adoption in keeping with enhancement of entrepreneurship awareness among students in boarding school which is developing their curriculum and management in lately years.  Although most of boarding schools have computer, these findings indicate that generally adoption of information technology by boarding school for entrepreneurship study is still very limited, because of many internal factors, such as limited finance source, conventional paradigm and inadequate computer skill. They use this technology just for operational and opportunistic purposes. Considering that we need new entrepreneurs to increase our national economy, therefore, it is suggested that information technology on entrepreneurship subject is a must.
Keywords        :           boarding school, entrepreneurship awareness, information technology.
DOI:
https://doi.org/10.37729/sjmb.v0i2.18
Refbacks
There are currently no refbacks.
p - ISSN: 0216-938X
e - ISSN: 2684-8414
Penerbit:
Program Studi Manajemen
Fakultas Ekonomi
Universitas Muhammadiyah Purworejo
Jl. KHA. Dahlan 3 Purworejo, Jawa Tengah, 54111
email: segmen@umpwr.ac.id
---
Ciptaan disebarluaskan di bawah
Lisensi Creative Commons Atribusi-BerbagiSerupa 4.0 Internasional
.